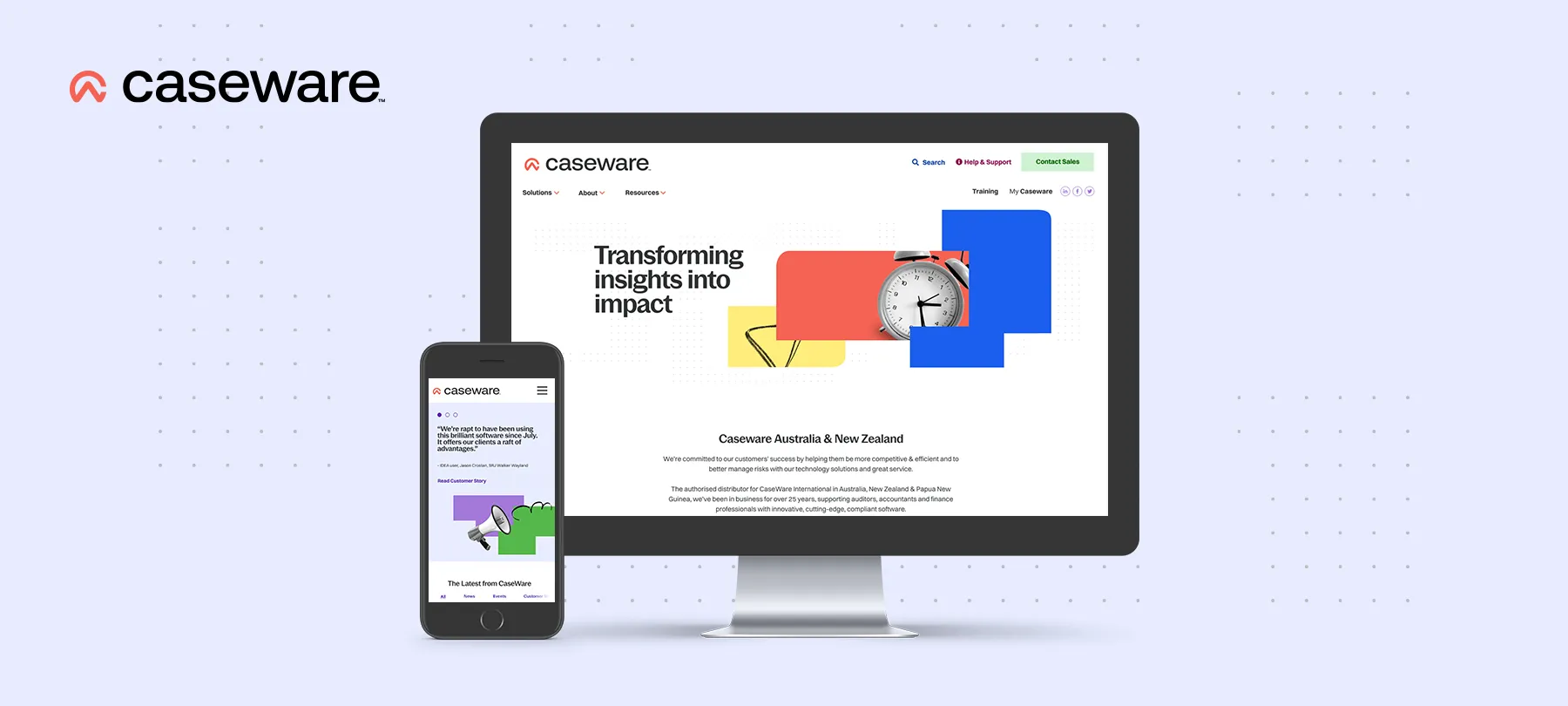 Analysing Caseware's customers.
Caseware Australia and New Zealand offers software solutions and support for financial professionals in the audit and accounting, corporate and government industries.
In 2020 we embarked on a redevelopment project with Caseware's marketing team to improve the site's user experience and presentation of information, led by the unique needs and priorities of customers. Then, in 2022, we were again approached by Caseware to help them reskin the website following a rebrand.
Who for
Caseware Australia and New Zealand
What we did
UX design
Website design
Website development
Website training
Search Engine Optimisation (SEO)
Industry sector
In order to achieve a streamlined user journey with strong messaging throughout the site, we undertook a thorough UX (user experience) mission. To get into the minds of auditors and accountants, we reached out to current Caseware partners with a set of questions to understand how they interact with content online and their must-haves in a website.
The responses collected informed the sitemap, wireframes and design of the new site. This is a vital process where we outline a visual map of the pages that make up the website, as well as the hierarchy of information and functionality on each page. We worked closely with the Caseware team to get every detail right at this stage before moving onto website design.
When constructing the copywriting, the user data played a significant role – ensuring the site answered all the right questions in a succinct and punchy manner. Copywriting across the site and in the resources section was keyword- and key phrase-driven, so it could be found by potential Caseware customers on search engines.
Two years after designing the website, Caseware returned to us for more assistance – its branding had changed, and the website needed to be updated to reflect this. The new branding, executed by Hambly and Woolley, was all about conveying a progressive, forward-thinking, innovative, modern and trustworthy brand. Once a new brand and style guide were in place, we were engaged to reskin the original website for Australia and New Zealand.
Our job was to draw on our creative nous to interpret the branding elements for a new website design. We subjected the new design to the same rigorous testing we apply to any website and found that the thinking and strategy behind the original website still held relevant and true – a testament to diligent research and testing!
All updates for the Australia and New Zealand site were done prior to launch in a test environment, which meant that the transition to the new-look site was seamless and glitch-free. Our reskin project was also held up as a "good example" for other international teams to follow suit.
Meanwhile, the client was delighted that the whole process was straightforward and successful: "I'm stoked with how everything is coming along and look forward to seeing the new website. Thanks so much for your help, PIER!" – Zak Rule, Marketing Coordinator at Caseware.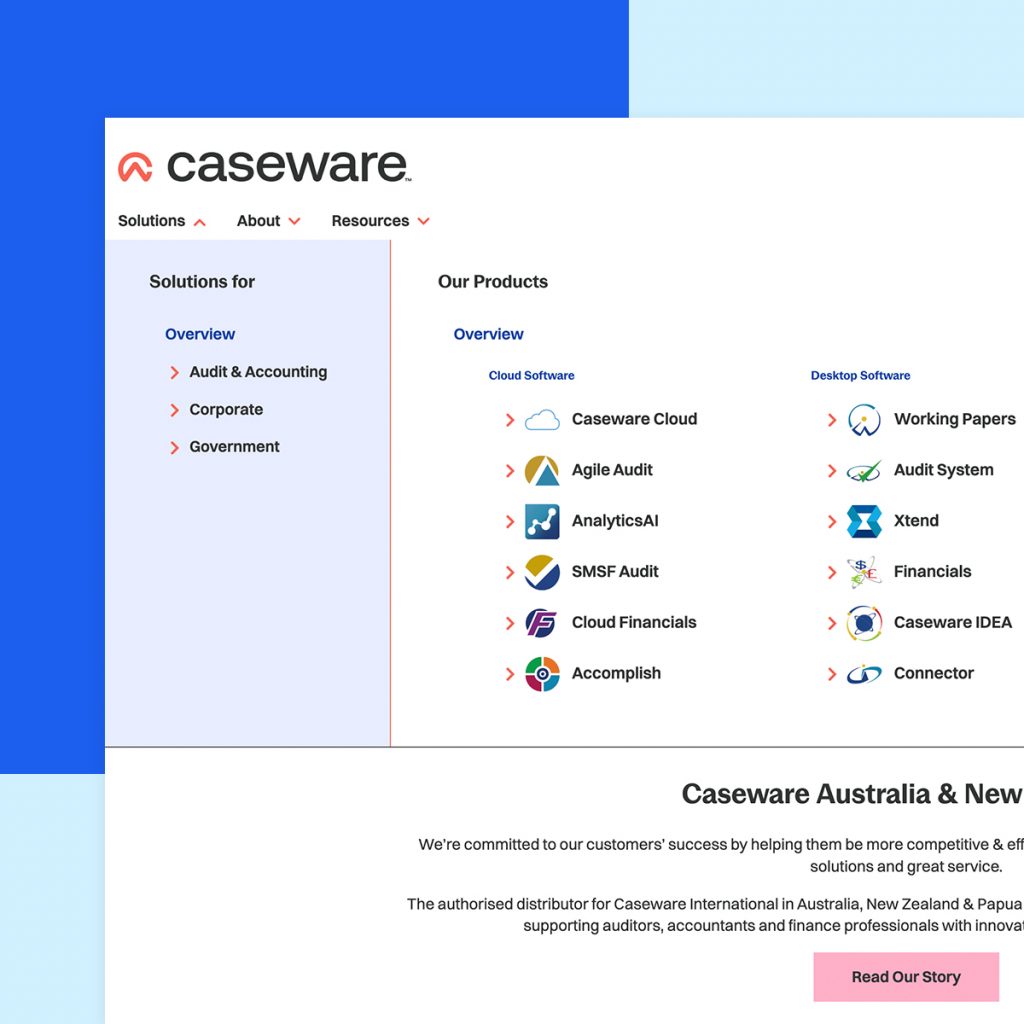 The outcome
Caseware's new website is easy to navigate, provides the information that users are looking for, encourages potential clients to submit their contact details or sign up to the newsletter — and accurately represents Caseware's fresh branding. We now take care of the ongoing maintenance to ensure the site is optimised at all times.
"PIER Marketing thought of everything for our new website. The detailed user analysis they completed was invaluable to the success of the project and we have complete peace of mind knowing we left no stone unturned. Thank you, PIER!"

– Lyn Pollock, Marketing Manager at Caseware